Opportunity of cooperation with polish vodka and gin producer
Discover craft alcohols blended in the heart of the Greater Poland region. Wielkopolska Manufaktura Wódek is a family-owned vodka distillery with three generations of history. We combine our heritage with the craft production process, respect for nature and modern business management. Our experience results in unique tinctures, vodkas and gins created out of a love for distilling.
We specialize in the production of craft vodkas, gins and tinctures. We use spirits from different varieties of cereals, and we also expand the range of products with an ecological certificate. In addition, the production of rectified spirit (neutral spirit) is under Ecovadis certification in terms of corporate social responsibility among suppliers.
Wielkopolska Manufaktura Wódek is located in Murowana Goślina near Poznań (Greater Poland region) in close proximity to the Zielonka Forest Landscape Park. Working in such an unusual neighborhood, we understand the need to protect it and respect the natural environment.

Discover brands from vodka manufacturer
Our spirits are created out of true passion for excellent drinks, based on traditional recipes and produced slowly, in accordance with the classic art of distillation. We use only the highest quality organic and ecological raw materials from trusted suppliers. To reduce the carbon footprint, we cooperate with local farmers and fruit growers. Many activities during production are still done by hand to maintain the authentic style of craft products.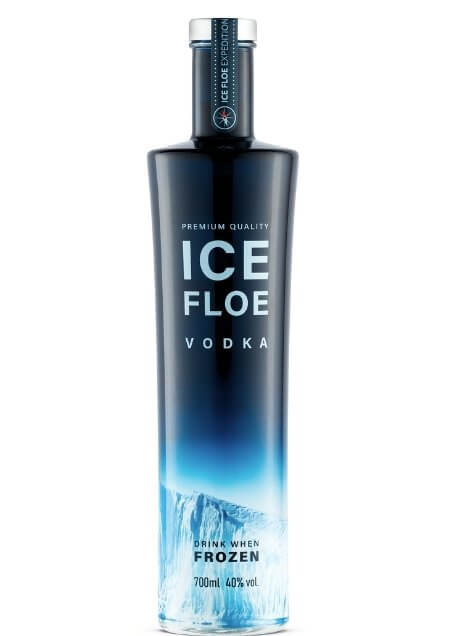 Ice Floe Vodka
Each bottle of Ice Floe vodka takes 365 days of craftsmanship, and each batch is regulated many times during the production process. The unique character of Ice Floe is achieved thanks to the combination of the highest-quality wheat alcohol with water extracted from our own deep water intake (112 metres below the surface). Our fivefold distillation and the use of the best-quality grains guarantee a deep, delicate and slightly sweet taste. Produced carefully in small batches.
| | | | |
| --- | --- | --- | --- |
| Capacity | ABV. | Quantity per box | Quantity per pallet |
| 500 ml | 40% | 6 | 600 |
| 700 ml | 40% | 6 | 504 |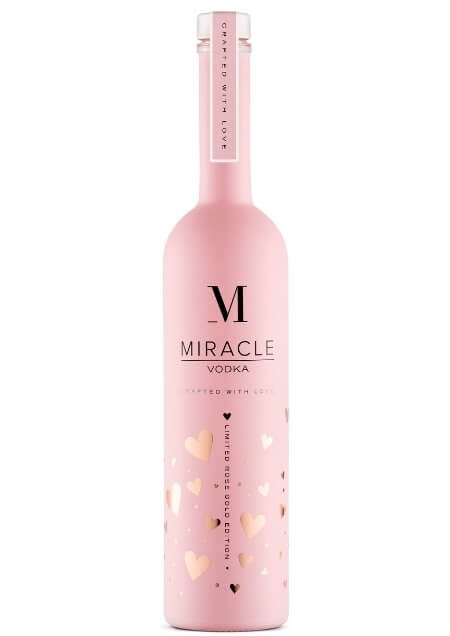 Miracle Rose Gold Vodka
The luxurious Miracle cocktail vodka is available in three colour versions. Each of them is characterised by alcohol content and grain. The most delicate is vodka in a light pink bottle – Miracle Rose Gold – with a strength of 38% ABV, produced with carefully selected wheat and crystal clear water. Water is drawn from our own well; then, it undergoes meticulous quality control. In the subtle Miracle Rose bottle, you will find, among others, sweet notes of wheat. This is one of the noblest grains from which vodka is made. Filtered with gold to achieve the finest taste and aroma.
| | | | |
| --- | --- | --- | --- |
| Capacity | ABV. | Quantity per box | Quantity per pallet |
| 500 ml | 38% | 6 | 744 |
| 700 ml | 38% | 6 | 600 |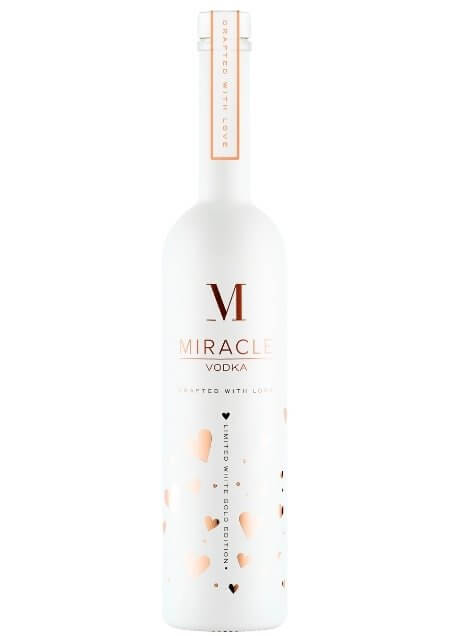 Miracle White Gold Vodka
Miracle White Gold is a unique cocktail vodka in a white bottle that is perfect for celebrating important moments. Carefully selected types of rye are used to create this version of Miracle. It is – next to wheat – the noblest grain from which alcohol is produced in Poland. It has a clearer, deeper and more multi-layered flavour than wheat-based vodka. The character of Miracle White Gold is expressed by slightly spicy notes that come from the source grain. The unique aroma is the result of using gold in the filtration process. A taste of luxury is guaranteed!
| | | | |
| --- | --- | --- | --- |
| Capacity | ABV. | Quantity per box | Quantity per pallet |
| 500 ml | 40% | 6 | 744 |
| 700 ml | 40% | 6 | 600 |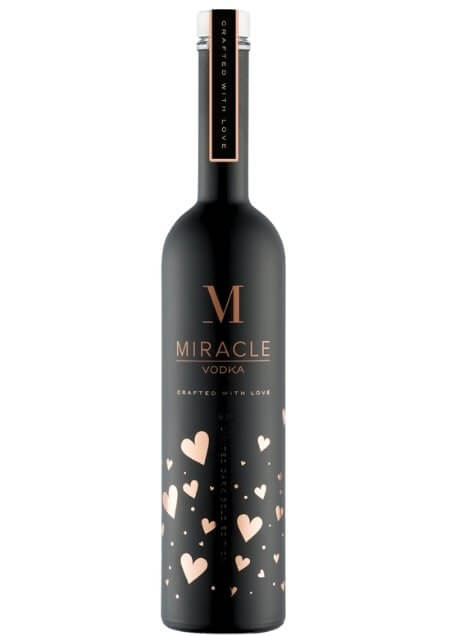 Miracle Dark Gold Vodka
The luxurious Miracle Dark Gold cocktail vodka owes its slightly sweet taste to the famous potatoes of the Greater Poland region. Sourced from local suppliers and carefully picked, they give you a sense of the highest quality. Miracle Dark Gold in a black bottle is the strongest vodka in the Miracle collection – a 42.3% alcohol content guarantees an exquisite experience when celebrating important events and sophisticated moments. Those looking for nobility – will not be disappointed.
| | | | |
| --- | --- | --- | --- |
| Capacity | ABV. | Quantity per box | Quantity per pallet |
| 500 ml | 42,3% | 6 | 744 |
| 700 ml | 42,3% | 6 | 600 |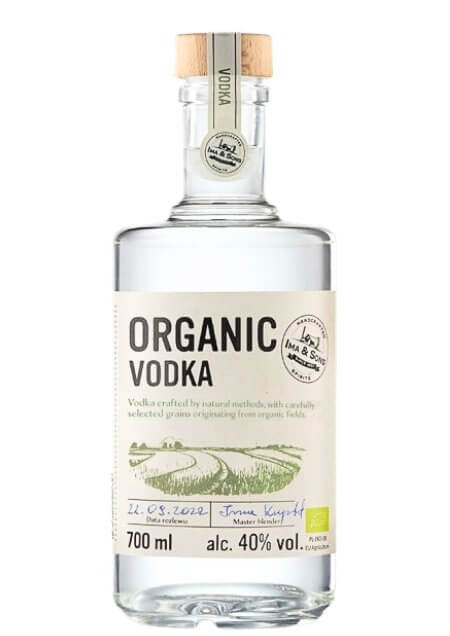 Organic Vodka
Organic Vodka is crafted with organic wheat; therefore, it is marked with a 'green leaf'– the symbol of organic food certification in the EU. It is aged for a minimum of 30 days in vats and filtered using only natural methods. Thanks to this, it is distinguished by an extremely delicate taste and smell, with a slightly sweet aroma and smooth finish. Bottled at 40% ABV in 0.7L bottles. The handcrafted character of our Organic Vodka is emphasised by a wooden cap and an aesthetic paper label. In addition, each has a handwritten date of bottling and the signature of the recipe's creator.
| | | | |
| --- | --- | --- | --- |
| Capacity | ABV. | Quantity per box | Quantity per pallet |
| 500 ml | 40% | 6 | 600 |
| 700 ml | 40% | 6 | 504 |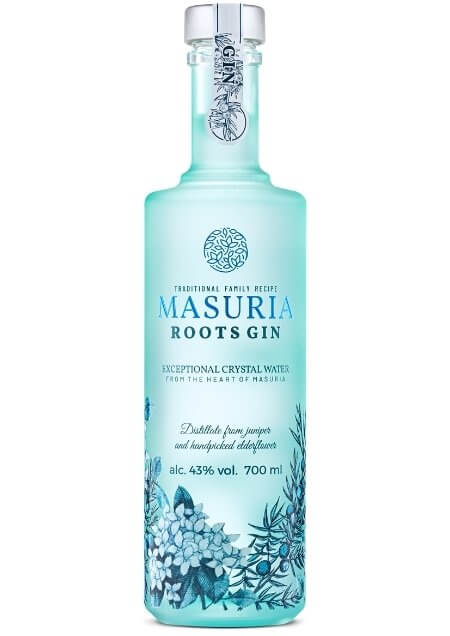 Masuria Roots Gin
Masuria Roots Gin is an artisanal gin produced based on a family recipe passed down from generation to generation. The core of Masuria Roots Gin is the careful fractional distillation of wild juniper berries and crystal-clear water drawn from the Masuria Spring in the protected region of Warmia-Masuria. Masuria Roots Gin is a composition of unique distillates: handpicked elderflowers and Polish apples. This product is completed with wheat alcohol. Thanks to the distillation in a small alembic, we obtain an extremely smooth, mild gin taste and a unique aroma.
| | | | |
| --- | --- | --- | --- |
| Capacity | ABV. | Quantity per box | Quantity per pallet |
| 700 ml | 43% | 6 | 552 |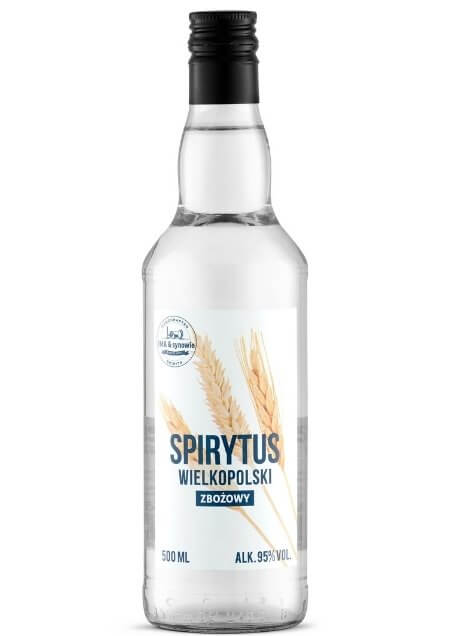 Rectified grain spirit 95%
Rectified grain spirit 95% ABV, crafted from selected cereal grains and crystal clear water, drawn from our own deep water intake. Valued for its mild flavor and versatility of use for exapmle for liquers and tinctures. The production process is supervised by specialists with many years of experience. Filtered with additional carbon filters for perfect purity and clarity.
| | | | |
| --- | --- | --- | --- |
| Capacity | ABV. | Quantity per box | Quantity per pallet |
| 500 ml | 95% | 15 | 900 |
Orders
Deliveries to other countries within the EU and Exports are only allowed through EMCS (Excise Movement and Control System). It is a computerised system of the European Union for monitoring movements of excise goods under suspension of excise duty within the EU. The delivery is accompanied by an e-AD (electronic Administrative Document) which has to be confirmed by the customer after receiving the goods.
Partnering with us gives you the opportunity to offer your customers some of the finest vodka and gin on the market. Our products are perfect for any occasion, from a queitet night with friends to lively night out on the town. And with our commitment to sustainabillity and responsible production, you can feel good about partnering with company that cares about enviroment as much as you do.
So why wait? Contact us today to learn more about how we can help you take your business to the next level with our premium Polish vodka and gin. Cheers to bright future successful cooperation!
For more details, contact us: